Free US Shipping - Orders Placed by 1pm Central Ship Today
2021 Nautique G23 and G25 Ballast Upgrade Package - 3,900lbs
2021 Nautique G23 and G25 Ballast Upgrade Package - 3,900lbs

2022 G's brought us supplemental ballast, an additional 1,450 pounds under the tower to match the Paragon and upgrade the wave. 
Our 2021 G23 was sad, it wanted more ballast too! 
We've spent the last several months working with Fatsac to design an upgraded ballast package that does not require additional pumps and functions as close to factory as possible. 
This 2021 G Series Ballast Upgrade Package is a completely subfloor plug and play solution, remove your stock bag and insert these 1,950 lb Fatsac Ballast Bags in its place. All fittings and hardware included.
 Note: While we are unable to reprogram the display to accurately account for the additional ballast, it fills and drains flawlessly. The factory system will shut off the pumps once the standard factory 750 lbs is filled. Once the pumps shut off, if you want to use the additional ballast, you will just go into ballast settings and turn the pumps back on until they overflow out of factory vent. 
Each package includes written instructions as well as an installation video and can be tackled by anyone with simple hand tools. We expect this project to take 1 hour per side. 
Frequently Asked Questions: 
Where does it add weight: The stock rear bag is under the floor all the way in the back of the boat, but there is a cavity that is open that continues up to the battery compartment under spotter seat on the port side as well as to the drivers seat on the starboard side, so we are completely filling these cavities balancing the weight nicely under the passenger seats below the floor. 
How much weight does it add: Each of our bags is 1,950 lbs as designed, the factory bags are 725 lbs each and 2022 supplemental is an additional 725 each for a total per side of 1,450 lbs, our bags are 1,950 lbs each side. 
How difficult is it to install: It will require basic knowledge of hand tools and about 2 hours per side. You will be removing factory access panels and engine dividers to get access to areas, as well as pulling some hoses and replacing them once new bag Is installed. 
How does it completely drain: we are creating suction with check valves and the pump to suck the bags completely flat, there will be a few gallons of water max in each bag when fully drained. If you removed access panel after draining stock setup you will find the same result. 
Do I need to upgrade my prop: We did not find any issues at wakeboard or wakesurf speeds getting to or keeping speeds, if you are at significant elevation or frequently ride with a full crew and want this full, it may be necessary
What engine was it tested with: Standard ZZ6 450hp motor
How do you completely fill and drain with Linc System: Once you reset your ballast timers, it will fill and drain just like stock. See this VIDEO
Who makes the bags: For this kit we have partnered with the Nautique OEM Supplier, Fatsac, to ensure these bags meet OEM Specifications. 
FATSAC's are proudly made in the U.S.A. in Milwaukee, Wisconsin. Their Pro X Series Quick Connect fat sacs are made of a 3 layer Valmex material, which is similar to the materials used in making river rafts and inflatable boats. The extreme durability means it is nearly impossible to puncture these bags. These bags are handmade with strict quality control. The extra wide seams are welded and taped. Fatsac is the only ballast company that makes the extra step to tape the seams, making one more layer of protection against any malfunction. This attention to detail and quality is the reason most boat manufacturers use them for their OEM bags, in fact if you have a wake boat with stock ballast from the past 10 years I can almost guarantee there is already a fatsac in it whether you know it or not. Fatsac has long been a pioneer in wakesurfing and wakeboarding and is considered the original wake ballast co.
Customer Reviews
100
reviewers would recommend this product
Write a Review
Ask a Question
I recommend this product
Worth the upgrade!
Installed the upgrade kit! Definitely worth the upgrade. I feel like the wake has more push and is longer.
07/17/2022
Carl G.

Canada
I recommend this product
Great product with no instructions.
Great product with no instructions…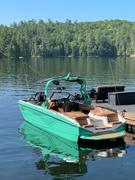 05/16/2022
Dave N.

United States
I recommend this product
Very hard install
I purchased the 2021 Nautique G23 ballast upgrade. First, let me say that I am very grateful that Swell stepped up and made this kit. I was steaming mad at Nautique for not owning their error when they undersized the 2021 factory ballasts. Swell delivered quickly and everything was in order. The only reason it's not a 5 star is because the install was VERY difficult. It took over 4 hours to complete, with a lot of small cuts all over hands and wrists. I recommend fingerless gloves to protect knuckles but leaving exposed fingers so you can still feel your way around the intricate parts and connections. It was worth it though... the extra weight really delivers a much stronger wave and push!