Cart (

0

)
Recently Added

0

Item
Total

$0.00
The item you just added is unavailable. Please select another product or variant.

Cart (

0

)
Recently Added
Total $0.00
The item you just added is unavailable. Please select another product or variant.
SWELL Promise: We have the right wake shaper for your boat. If for any reason one of our SWELL Wakesurf creators does not fit your boat, we will work with you to exchange it for one that does at no cost to you or if you prefer, send your Swell Wakesurf Creator back within 30 days and we will refund your money no questions asked!
Customer Reviews
Write a Review
Ask a Question
09/22/2020
Ryan R.
United States
I recommend this product
Definitely worth it
This has totally changed surfing with our boat for my family. We have a 2001 Malibu Sunsetter VLX with 1200# ballast and wedge. While I had an older wakeshaper, we had never been that happy with it. We bought an H3X and it dramatically changed the wave. When I had a chance to upgrade to the H3X Plus for a little more, I went for it. This is the best wake we've had and all my kids are loving getting out, way more than I expected. Gives great push with nice height. Took a friend who has a 23' Axis and he said the waves are pretty similar. Not bad for a 20yr old boat.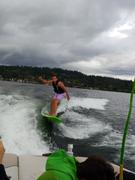 09/20/2020
Melanie J.
United States
I recommend this product
Amazing purchase.
Increased the pocked and made the wave so much more rippable. Absolutely recommend buying this product. I also recommend buying a caribener to clip the leash to side of your boat cause the string is a little short for tying on back clear. Best surf purchase I've made
09/21/2020
SWELL Wakesurf
Please do not tether the device to your boat! The rear of the H3X even says it. It ends up dragging backwards and will destroy itself. Was designed to only take force to the front face. It floats, the tether is only to be used to tie to a buoy to make it easier to find floating in the water.
09/11/2020
Dave P.
Australia
I recommend this product
Hx3 plus
Super fast shipping. Great communication Have not been able to use the shaper yet because of covid.
09/09/2020
Paul C.
United States
Still trying to find sweet spot...
I have a 2005 MasterCraft x2 with upgraded ballast (up to 2,200 lbs). Boat has a new engine and we'll maintained. I used to be able to wakesurf a very clean wake but the wave was short and very steep (with port side listing). I guess the product works but it's not the longer clean wake I expected. I think it's just figuring out the settings. I wish there was someone who set up a blog or something for optimal settings including speed for various common boats such as mine. The product seems sturdy. I hope it holds up well after significant use.
09/07/2020
Pat P.
United States
Huge wave
H3X worked amazing on my 08 Malibu 23 LSV
Creators Designed for Narrow Hull Lines
Our SWELL Wakesurf Creator SLIM was made for boats with
narrow hull lines or stepped hulls.

SHOP NOW
SWELL things you might also like