SAVE 15% WITH COUPON CODE "MEMORIALDAY22" - FREE US SHIPPING
Fatsac - X2 Ballast Upgrade Kit - By SWELL Wakesurf
Take your Mastercraft X2 to the next level with this kit
This is everything we used in the video series that you need to upgrade your ballast system to make it into a surf monster! Check out the X2 Rebuild video series
Includes:
Rear Fatsac Bag Set - 840lbs each, 1,680lbs (c1223,c1224)
Bow Fatsac Bag - 300lbs (c1225)
5 - Flow-Rite 1 1/8" Quick Connect Elbows (w746)
1 - Flow-Rite 1 1/8" Quick Connect Straight (w741)
6 - Stainless Hose Clamps (558031-clamp)
20' of reinforced ballast hose
2 - Suction Stop 1 1/8" Quick Connect (w743-ss)
If you don't already have our specialized shaper, shop the Creator SLIM H3X Plus.
 
Have a 2007-09? Learn how to Re-Program your timers in this video.
FATSAC's are proudly made in the U.S.A. in Milwaukee, Wisconsin. Their Pro X Series Quick Connect fat sacs are made of a 3 layer Valmex material, which is similar to the materials used in making river rafts and inflatable boats. The extreme durability means it is nearly impossible to puncture these bags. These bags are handmade with strict quality control. The extra wide seams are welded and taped. Fatsac is the only ballast company that makes the extra step to tape the seams, making one more layer of protection against any malfunction. This attention to detail and quality is the reason most boat manufacturers use them for their OEM bags, in fact if you have a wake boat with stock ballast from the past 10 years I can almost guarantee there is already a fatsac in it whether you know it or not. Fatsac has long been a pioneer in wakesurfing and wakeboarding and is considered the original wake ballast co.
Customer Reviews
Write a Review
Ask a Question
07/11/2021
Adrian T.

United States
I recommend this product
Great fit, easy install!
Team at Swell was great to work with before, during, and after purchase. X2 series of videos from Adam were helpful in giving me the confidence and knowledge to tackle the project. Great team and product all around!
05/03/2021
Bryson C.

United States
I recommend this product
2006 X2 Ballast Upgrade
If you have a MasterCraft X2, PURCHASE THIS BALLAST KIT! This is definitely the easiest and most convenient way to upgrade the wave capabilities of your boat. I love that I can fill all of my ballast with the flip of a switch. I also opted to upgrade the pumps to the King pumps, however I wouldn't say it's necessary. My stock pumps would fill all of the ballast in about 10 minutes. The kit is really easy to install and it's self explanatory. I wish they came with a little more instructions, but it makes sense once you figure out how it's supposed to be (and the YouTube videos help)! I installed everything by myself in a few hours. The hardest part is getting the hard tanks out, but a sawzall makes it easy. Overall, love the kit, and quality/fit is great!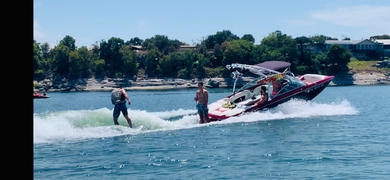 05/27/2020
Todd

United States
I recommend this product
Killer upgrade for the X2
Adam was super helpful and watching the videos helped me tackle this project, was super simple and made a huge difference, thank you!