Can You Wakesurf Behind A Pontoon? Can You Surf Behind a Tritoon?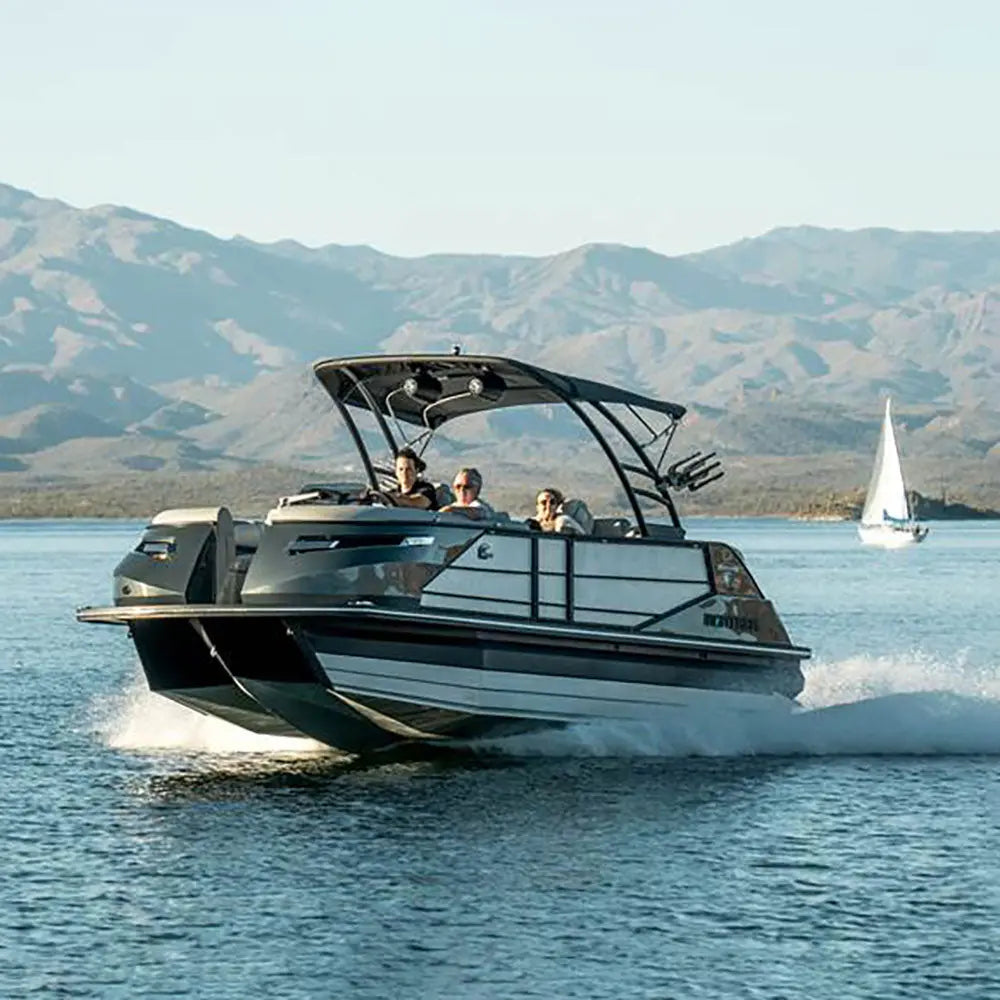 Can You Wakesurf Behind A Pontoon? Can You Surf Behind a Tritoon?
No, you cannot surf behind pontoons or tritoons (with one exception we will mention later).
First and foremost, surfing behind boats with outboard motors is extremely dangerous and should never be attempted.
Pontoon boats don't naturally create a wave shape to wakesurf behind, and due to the fact that pontoons and tri-toons have multiple hulls (float champers in this case) the physics of how a wakeshaper works do not help. They are only beneficial to boats with a single hull.
We frequently get asked if it is possible to use the SWELL Wakesurf Creator on a pontoon and if you can surf behind a pontoon. Here at SWELL Wakesurf we like to define wakesurfing as being behind the boat on a wakesurf board without the rope and the boat's wave pushing you along.
Pontoon boats due to their hull shape, have very little water displacement, are very light, and sit very high on the water. The waves that pontoons create are not able to get large enough, or to the correct shape due to the two pontoons making it unable to surf behind.
Adding ballast, wake shapers, or other tools similar to what is used on inboard boats do not improve the wave.
Any boat with an exposed lower unit (outboards and inboard/outboard motors) are very dangerous to surf behind. When wakesurfing, the surfer generates speed towards the boat and is usually 3-10 feet behind the boat, making the spinning propeller dangerously close to the wake surfer. Beginner surfers will have almost no control of their forward momentum, and often a new surfer will run into the swim deck of a boat and if that swim deck is instead an outboard motor… just don't do it.
Will a SWELL Wakesurf Creator or a wakeshaper attach to the pontoons? They do not adhere very well at all to pontoons and come off frequently. The very round nature of the pontoons do not have a flat enough surface for suction cups, not even our Slim shapers. Any wave adjustment they do make does not allow for any type of wake surfing behind the boat. If you want to play around behind the boat at a safe distance, 20 feet or more, you can still have fun, but a wake shaper will not provide any benefit to the wave.
If you love pontoons and love to surf there is one exception, check out the Montara Surf Boss. These boats have a newer type of inboard / outboard motor called a reverse drive. Where the propeller is towards the bow of the boat and the motor body is basically a rudder. This puts the propeller further forward and more importantly something between you and the propeller.
The Original Montara Surf Boss used a Volvo Penta Reverse Drive inboard / outboard motor. This diagram will show you how on a typical inboard / outboard there is nothing between the surfer and the propeller. The new Montara Surf Boss 2 has a more traditional inboard engine.
If you are looking for something fun to do safely behind your pontoon, check out our Armstrong Wake Foils. Wakefoils allow you to surf on the second and third set of wave behind the boat because they require very little push which makes them a safer option than a normal wakesurf board.
Do not try to surf behind a pontoon! (unless it's a surf boss)