Five Items To Check When Trailering Your Boat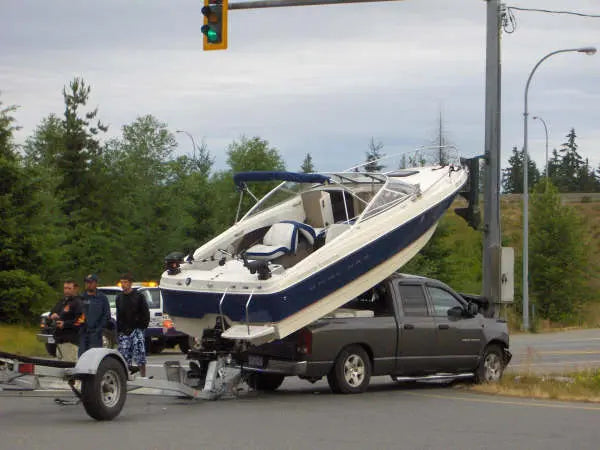 Towing your boat can be dangerous and overwhelming - We are here to minimize both!
Summer is a great time to go boating. While many people keep their boats in a slip, there are just as many people that choose to trailer their boats to the water. And while trailering your boat is popular, make sure you don't ruin a potential day on the water by not going through this trailer checklist. Here are five things to check prior to trailering your boat.
Lights: We all know that having our lights out on our cars is a ticketable offense. Lights off on your trailer can get you a ticket too. With all the exposure trailer lights have to the elements, including water, they may wear out faster than you'd expect. Be sure to always check that your lights on your trailer are in​ proper working order prior to leaving your driveway.
Coupler: A coupler can wear out on newer or older boats. Check over the tongue lock and make sure it isn't clamping tightly to your hitch ball–the lock should separate from the hitch ball somewhat easily. If it doesn't, an accident may occur so it's worth it to check every time.
Brakes: Keeping your trailer brakes in good shape may seem like common sense, but it's a to-do that a lot of people forget. Checking both your electrical and surge brakes is very important. Don't forget to check for corrosion at the master cylinder and atop the tongue.
Safety Chains: These chains take a lot of abuse–though we don't often realize it. Safety chains are subject to being dunked or dragged, both of which can cause a lot of wear and tear. Look over the condition of your safety chains every time you head out to make sure they aren't damaged.
Tires: Tires never last as long as we'd like them to! You can count on trailer tires usually lasting around two years. Always examine your tires on your trailer before pulling out. A sign that you need new ones is when you see steel belts peeking through the tread.​
​Trailering your boat this summer can be a lot of fun. That being said, keeping your trailer up to the task is incredibly important. Always be sure to go through the checklist above before you pull out. Keep in mind that this is not a complete checklist.